Her Royal Highness Princess Maha Chakri Sirindhorn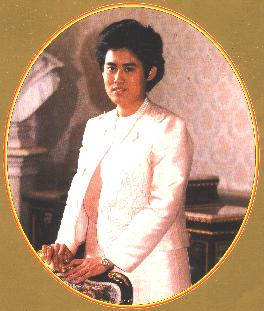 ---
From : "Her Royal Highness Princess Maha Chakri Sirindhorn and Thai Heritage Conservation"
Thailand Cultural Centre, Office of the National Culture Commission Commemorative Publication on the Auspicious Occasion of Special Exhibition on Thai Heritage Conservattion, 10 April 1989.
---
Preface
---
Story by : Major General M.R. Kukrit Pramoj
---
The Royal House ot Chakri was founded not long after the tall of the city of Ayudhya. In terms of artistic and cultural traditions. the sacking of Ayudhya was utterly destructive. Almost nothing remained to attest to our ancient heritage. It happened that although the physical manifestation of that past glory perished, much of it remained in the memories of those who had survived. A restoration movement grew under the leadership if King Rama I and a number of courtiers who remembered well those things which had been lost. From these remembrances evolved the Thai artistic and cultural traditions as we know them today.

The Royal House of Chakri has always been able to produce great kingswho have shown great capabilities in coping with the changing situations, be they in national administration, in war, or in culture and the arts.
During the reign of King Rama I, strife and warfare had not ceased. The newly revived nation was once again in danger of being vanquished. The warrior king and his brother were able to rout the enemy to the extent that no further aggression was ever attempted. From then onwards, King Rama I turned his attentions to the arts. He penned the Ramakirti, based on the Ramayana epic, which has remained one of the greatest Thai literary works ever written. During this reign, the Chinese classic, Romance of the Three Kingdoms, was translated into Thai. This work has retained its popularity until the present.
King Rama II revived many aspects of the classical arts and raised them to new heights of refinement. He was also an excellent wood carver.

In theirturns, Kings Rama Ill, Rama IV, Rama V and RamaVI continued to uphold the Thai artistic tradition. During this age of rapid development, yet another great king is leading the Thai nation to a period of prosperity. His Majesty King Bhumibol Adulyadej. Rama IX, reigning as a constitutional monarch, has developed the nation to a much greater extent than his predecessors had been able to within the absolute monarchal system. This has been achieved because of His Majesty's personal efforts and hard work which has resulted in the absolute devotion and loyalty of his people.
In arts and culture, the great Rattanakosin revival is more than 200 years old. Natural deterioration and neglect are once more threatening our national artistic and cultural heritage. Priceless art objects are in danger of going into extinction.
As if in response to this situation. the Royal House of Chakri has produce Her Royal Highness Princess Maha Ohakri Sirindhorn. Now the traditional Thai arts and culture are no longer under threat, but will continue to fiour'.sh, and to develop in line with all the other aspects of modern culture.

Her Royal Highness was born and grew up within the traditional centre of Thai arts and culture: the Royal Palace. She studied the liberal arts. the fine arts, archaeology and other subjects which have all helped to prepare her for a lifetime of artistic creativity and conservation. She has bravely accepted the role of conservator of the national heritage, and has been active in this field for many years.

This role imposes a heavy burden on any individual. It requires the ability to make brave and single minded decisions, while being extremely demanding on time. patience. and most important of all, the need to~study further incesspntly. Her Royal Highness Princess Maha Chakri possesses all these qualities. Whoever realizes this will gain a new confidence that our ancient heritage will not simply disappear. He will also take pride in the knowledge that as a Thai, he shares the ownership of priceless things which are being well cared for by Her Royal Highness.
All Thaisarewillingtotendercur loyalty to Her Royal Highness in humblegratitude for her efforts. We are ready to work and make sacrifices in order to carry out her wishes of today and forever into the future
---
Contents

Her Royal Highness Princess Maha Chakri Sirindhorn and Buddhism
Her Royal Highness Princess Maha Chakri Sirindhorn and the Thai Language
Her Royal Highness Princess Maha Chakri Sirindhorn and the Literary Arts
Her Royal Highness Princess Maha Chakri Sirindhorn and Historical Studies
Her Royal Highness Princess Maha Chakri Sirindhorn and Antiquities
Her Royal Highness Princess Maha Chakri Sirindhorn and Thai Architecture
Her Royal Highness Princess Maha Chakri Sirindhorn and the Crafts
Her Royal Highness Princess Maha Chakri Sirindhorn and Thai Classical Music

---
Back to The Thai Heritage Page
---
Nikorn Limcharoen & LCDR. Wuttipong Pongsuwan
Computer Science, AIT , Thailand
mailto:nikorn@cs.ait.ac.th / mailto:wutt@cs.ait.ac.th
Thanks to Prasarn Suksukon & Chumpon Janchalong who scanned all the things.